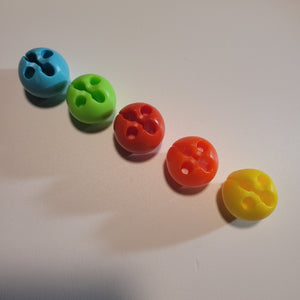 DiscDot helps you focus your aim for more confidence on the putting green! DiscDot target aides reduce mental distractions, help find your sweet spot, and improve your scores! The muscle memory and instant feedback loop that DiscDot provides during your practice routine translates into fewer missed putts on the course. The bright colors also reduce eye strain allowing you to putt longer and maximize your routine!

Classic color DiscDots are bright and UV resistant made to last years of abuse.
DiscDots fit a variety of chain sizes, however a minimum chain link spacing of 1" (space in between the links the long way) is required to fit a DiscDot. Please measure your chains to ensure proper fitment. DiscDot fits all the most common baskets except some "marksman" style baskets.
People who bought this product, also bought