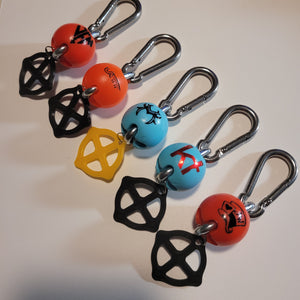 Classic Color Team Series DiscDot with Keychain.
DiscDot helps you focus your aim for more confidence on the putting green! DiscDot target aides reduce mental distractions, help find your sweet spot, and improve your scores! The muscle memory and instant feedback loop that DiscDot provides during your practice routine translates into fewer missed putts on the course. The bright colors also reduce eye strain allowing you to putt longer and maximize your routine!

Classic color DiscDots are bright and UV resistant made to last years of abuse.
Includes:
Classic Color Team Series DiscDot
1 chain link to hold your DiscDot
Steel Spring Clip Carabiner
DiscDot Logo 3D Printed Charm
*DiscDot color will vary
*Charm color will vary
Disc dots
I ordered a Kristin Tattar, Christine Jennings, and JohnE McCray one. I received a Christine Jennings and 2 JohnE McCray ones.
People who bought this product, also bought