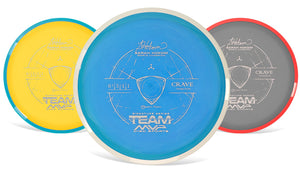 THE CRAVE IS A STRAIGHT-STABLE FAIRWAY DRIVER.
"More, more *CRrruUNCH* … *gurgle* … more." Inside the monster's head was simply the urge — drowning out all other thoughts or impulses —the inexorable, impossible to satisfy urge, no … the crave for … MORE! The Fission™ Crave SE from our amazing Art Director Mike Inscho is here for more! Depicting the crave we all feel for disc golf in its most base, glutinous form, this SE is yet another feather in the cap for Mike Inscho. Stunning, eye catching, and delightfully weird, you'll have a conversation starter with this SE whether it's in your bag or on your wall!
The Crave provides controllable straight flights with a great feel and loads of dual-color style. Relative to MVP drivers, the Crave is like a seasoned Servo. The popular "worn workhorse-stable" vibe is achieved with subtle wing contours that also feel great in the hand. The stability, range of weights, and easy throw make the Crave a GYRO® rig staple.
Flight Numbers: 6.5 | 5 | -1 | 1

People who bought this product, also bought