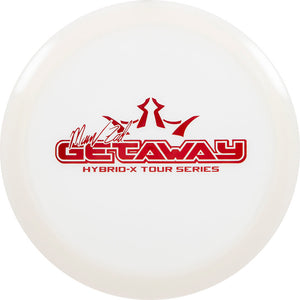 Stamp color will vary.
Shade of disc color may vary. For example, yellow can be a mustard yellow or a bright yellow.
Do you love the Escape but need more stability? Look no further than the Getaway. While it shares the feel and glide of an Escape, the Getaway boasts a more predictably overstable flight with moderate fade. When straighter flights with a subtle fade are a must, trust the Getaway.
Speed: 9 Glide: 5 Turn: -0.5 Fade: 3
Max Weight: 175g
Dynamic Discs Team Member Review
"The Getaway has been a game changer for me. It's a disc I throw on almost any shot 350-450 feet. It's straight as an arrow for big arms but has the best flight of any disc I have thrown."
-
Chris Clemons
People who bought this product, also bought