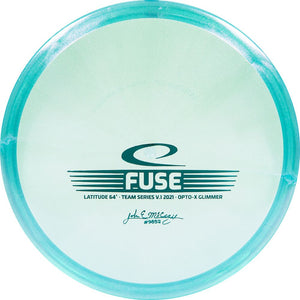 Shade of disc color may vary.

For example, yellow can be a mustard yellow or a bright yellow.
FUSE is the most versatile midrange driver we have ever made. Period. Co-designed with our pro Jesper Lundmark, it has a stable and predictable flight path up to 300ft, and will hold long anhyzer curves with minimal fade at the end.

Speed: 5 Glide: 6 Turn: -1 Fade: 0
Opto-X:
Opto-X is a premium blend of plastics that provides a stiffer feel, increased durability, and more overstable flights.
Glimmer effect: Chameleon color shift combined with a metallic glimmer effect.
People who bought this product, also bought