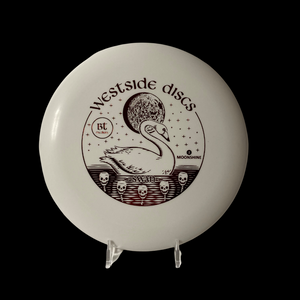 Pulled from the Westside Discs Box 1: The King.
New Limited Artwork. A mistake was made in the factory and this Swan 1 Reborn has a Swan 2 stamp.
Stamp color will vary.
Shade of disc color may vary. For example, yellow can be a mustard yellow or a bright yellow.
The Swan 1 was Westside's original putter and it would fly straight for anyone right off the shelf. The Swan 1 was designed to give lower arm speeds a straighter putting line.

Speed: 3 Glide: 3 Turn: -2.5 Fade: 0
About BT Medium:
The second in Westside's BT line, the Medium, is for all conditions. It has a tacky grip, great durability, and feels fantastic in your hand. In the cold it will still have some give; in the heat it will still hold its shape. Designed for the users comfort, BT Medium is just what you need to enjoy your next game. Westside offers BT in their putters and midranges as those two aspects of the game are all about feel. Feel their BT Medium today and you will fall in love.
People who bought this product, also bought