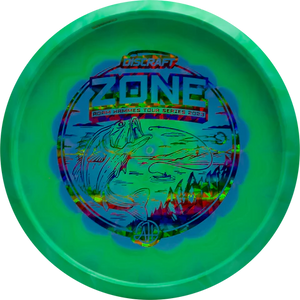 The 2023 Tour Series Zone represents one of Adam's favorite hobbies, fishing. Considered "the best disc I've ever owned" the Zone is a go-to disc for Adam in all situations on the course. Determined and persistent, this release highlights Adam's passion for pursuing his goals both on and off the course.
Please note that disc weights, colors, and foils will vary.

Putter: Speed 4 | Glide 3 | Turn 0 | Fade 3 | Stability 2.0.
Important note: All 2023 Discraft Tour Series are BOTTOM STAMPED. This means that the top is completely blank, and the tour series stamp is on the bottom side of the disc. Please note: Disc colors and stamp will vary, weight range 170-175.1g.
People who bought this product, also bought