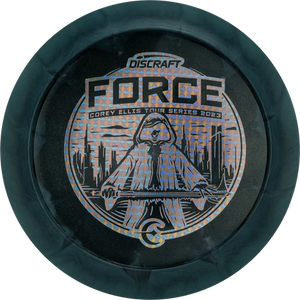 The 2023 Tour Series Force balances one's journey for inner strength and Corey Ellis's love of science fiction. Deemed one of the most popular drivers in Discraft's lineup, the Force provides players with the confidence to hit whatever line they see. This release is inspired by those who seek to make a positive change in the world around them.

Distance Driver: Speed: 12 | Glide: 5 | Turn: 0 | Fade: 3 | Stability: 2.0

Important note: All 2023 Discraft Tour Series are BOTTOM STAMPED. This means that the top is completely blank, and the tour series stamp is on the bottom side of the disc. Disc and foil color may vary.

People who bought this product, also bought