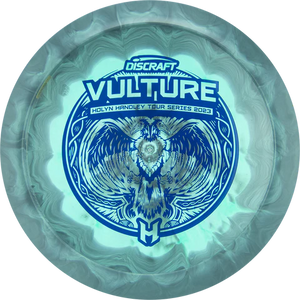 The 2023 Tour Series Vulture is a characterization of individuals who possess a sharp mind and skill for problem solving. Making a return to the TS lineup, this release represents one of our newest Elite Team members Holyn Handley, and her admiration for Nordic culture. Immediately filling a spot in her bag upon joining the Elite Team, Holyn trusts the Vulture's stability and ability to make forward progress without fading out quickly.

COLOR AND STAMP/FOIL WILL VARY.

Fairway Driver: Speed: 10 | Glide: 5 | Turn: 0 | Fade: 2 | Stability: 1.7

Important note: All 2023 Discraft Tour Series are BOTTOM STAMPED. This means that the top is completely blank, and the tour series stamp is on the bottom side of the disc. Disc and foil color may vary.

People who bought this product, also bought