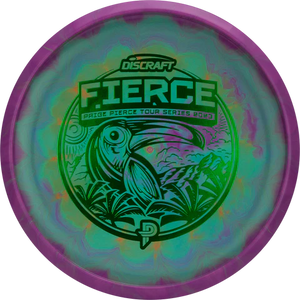 The 2023 Tour Series Fierce showcases a tropical landscape and toucan: spotlighting Paige Pierce's enthusiasm for traveling and experiencing new adventures. Crafted with Paige's vision of what a perfect putter would be, the Fierce is bound to provide confidence on the putting green and off the tee.
Paige Pierce Fierce: Putter: Speed 3 | Glide 4 | Turn -2 | Fade 0 | Stability 0.0.
Important note: All 2023 Discraft Tour Series are BOTTOM STAMPED. This means that the top is completely blank, and the tour series stamp is on the bottom side of the disc. Colors are burst effect with lots of variation. Colors listed are the dominate color in plastic.
People who bought this product, also bought