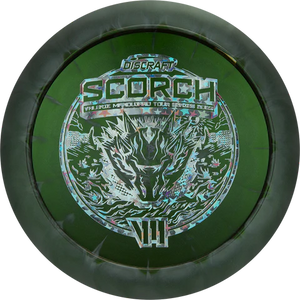 The 2023 Tour Series Scorch is one that took new Elite Team member Valerie Mandujano by surprise. Being introduced to the Scorch from her sister Alexis, this disc mimics a fairway with the speed of a distance driver. Illustrating a horned lizard, this reptile is native to Valerie Mandujano's home state: Texas. Known for their patience and ability to survive under harsh conditions, this release signifies Valerie's undeniable strong will and passion for competing at the highest level.
Scorch - Distance Driver: Speed 11 | Glide 6 | Turn -2 | Fade 2 | Stability 0.5
Important note: All 2023 Discraft Tour Series are BOTTOM STAMPED. This means that the top is completely blank, and the tour series stamp is on the bottom side of the disc. Please note: Disc colors and stamp will vary, weight range 160-176g.
People who bought this product, also bought