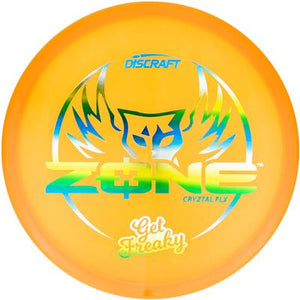 The famous Get Freaky Cryztal FLX Zone makes its stock debut with an updated stamp. Taste a little of the freaky while you're out slingin'.
The Zone overstable putt and approach disc is the go-to workhorse putter for dependable overstability in any conditions. Often used for technical approaches or powerful upshots for both forehand and backhand players. 
Please note that disc weights, colors, and foils will vary.

Putter: Speed 4 | Glide 3 | Turn 0 | Fade 3 | Stability 2.0.
Please note: Disc colors and stamp will vary, weight range 170-175.1g.
People who bought this product, also bought