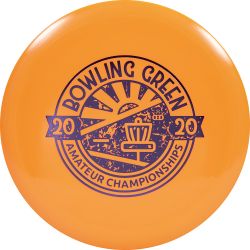 Stamp color will vary.
Shade of disc color may vary. For example, yellow can be a mustard yellow or a bright yellow.
The BioFuzion Sergeant was all set to make its debut at the 2020 Bowling Green Championships and then Covid-19 hit, causing the event to be cancelled. After sitting at the factory in Sweden, these have finally made their way over to us and now we're making them available to you.

The Sergeant is an excellent hybrid-style distance driver - like a faster Getaway or a slower Raider. It's perfect for those shots that a fairway just won't reach but you don't want to power down on a distance driver. The Sergeant forms a bridge between fairway drivers and distance drivers with a comfortable rim for both backhands and forehands and enough stability to work out of a turn, but not so much that it will always dive left at the finish. Pick up a Sergeant and experience full command of your drives!

Speed: 11 Glide: 4 Turn: 0 Fade: 2.5
About Biofuzion:
BioFuzion plastic is the by-product from a mixture of Lucid and Fuzion plastics that had blemishes or cosmetic flaws. Some of these discs may have specks of plastic, flakes, or other minor cosmetic flaws that will not affect the flight, performance, or durability of the disc.
People who bought this product, also bought