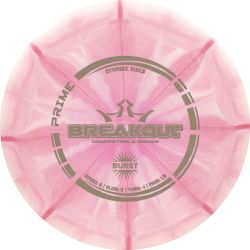 Do you like the Escape but find that it goes too far? The Breakout is the disc for you. It has the feel in your hand of a fairway driver but the easy release of a midrange. The Breakout is the slightly understable fairway driver from Dynamic Discs that you need when you have to have a bit more distance but you can't sacrifice accuracy. It will hold an anhyzer angle without turning over all the way to the ground and will fly dead straight if you tell it to.

Speed: 8 Glide: 5 Turn: -1 Fade: 1.5

Max Weight: 174g

About Prime:
Prime will have an incredible feel and excellent grip even when the weather will compromise your hold on your favorite disc. These are all secondary benefits to this incredible line of discs. Our guiding intention was to bring a product to market that was affordable for beginners looking to test the waters.
Stamp color will vary.

The first color listed will be the main primary color and the next color listed will be the secondary color. Please give some exceptions as the amount of color and burst in each disc will vary. For example, Blue "primary"/ Smoke "secondary".



Dynamic Discs Team Member Review
"My all-I-can-do disc. It doesn't matter if straight or hyzer or anhyzer. The glide is wonderful. Also in the woods, that disc is magic."
- Natalie Holloköi


People who bought this product, also bought