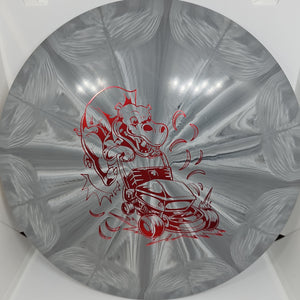 Walt Whitman said, "Whatever satisfies the soul is truth." The EMAC Truth is here to bring satisfaction to your golf game. The Truth had lost its way and wasn't as stable as we wanted it to be. The EMAC Truth sets the record straight. The beautifully neutral and versatile flight of this disc will remind you of the core of disc golf; to throw a disc where you want it to go. Let the EMAC Truth take you back to this satisfying feeling. May the Truth be with you. Signature disc for 2010 World Champion, Eric McCabe

Speed: 5 Glide: 5 Turn: 0 Fade: 2

Max Weight: 180g

About Prime:
Prime will have an incredible feel and excellent grip even when the weather will compromise your hold on your favorite disc. These are all secondary benefits to this incredible line of discs. Our guiding intention was to bring a product to market that was affordable for beginners looking to test the waters.
Stamp color will vary.

The first color listed will be the main primary color and the next color listed will be the secondary color. Please give some exceptions as the amount of color and burst in each disc will vary. For example, Blue "primary"/ Smoke "secondary".



Dynamic Discs Team Member Review
"It's the most versatile disc in the game. The EMAC Truth is easy to grip, feels fantastic in the hand, and flies like a fairway driver in midrange form. It holds any line you put it on; a must for everyone's bag."
- Eric McCabe

"The mid to rule all mids. This disc will hold any line you put it on while gliding like any Truth does. It is definitely my go-to mid, and has replaced the Verdict as my favorite disc, which I never thought would happen."
- Chris Tellesbo

"The EMAC Truth is the most versatile disc ever made. Great glide, stays on the line you put it on, and with a predictable finish even up to 350'. There is no better disc for those shots whether in the woods or in the open."
- A Ray


People who bought this product, also bought