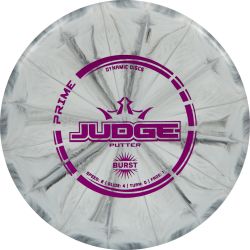 Stamp color will vary.
The first color listed will be the main primary color and the next color listed will be the secondary color. Please give some exceptions as the amount of color and burst in each disc will vary. For example, Blue "primary"/ Smoke "secondary".
Why was the Judge named the 2013 Disc of the Year in the Player's Choice Awards? It is incredibly predictable in flying and hitting the chains. It is a fantastic throwing putter that will fly straight and glide for amazing distances. It comes in 7 different plastics so that your preferred feel is available in this disc. Come see why this disc has become so popular and judged other, more well-known discs, to be insufficient.
Speed: 2 Glide: 4 Turn: 0 Fade: 1
Max Weight: 176g
About Prime:
Prime will have an incredible feel and excellent grip even when the weather will compromise your hold on your favorite disc. These are all secondary benefits to this incredible line of discs. Our guiding intention was to bring a product to market that was affordable for beginners looking to test the waters.
Dynamic Discs Team Member Review
"The Judge is my favorite disc of all time! The Judge is great for putting and throwing. The Judge gets a lot of glide and has a straight to stable finish when I throw it for tee shots or upshots. When I putt it, it always flies straight with a slight fade at the end. It's a very predictable putter all around."
-
Paige Shue
People who bought this product, also bought