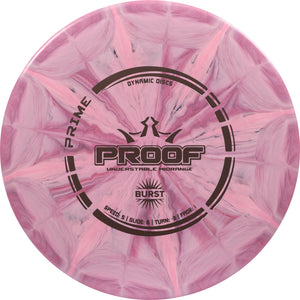 Joining the Breakout and the Gavel in the Easy-to-Throw Line is the Proof. Feeling very similar to the Warrant/Evidence, the Proof is great for a beginner. With a small rim, small profile, and light weight, this disc will zoom out of the hand. With its excellent glide, the lighter weights will not matter as this disc can really get out there quickly. For the seasoned player, this disc could definitely be used for turnover shots or when you need to back off of the power but still hold a good line. Watch your high scores disappear. The proof is in the Proof.

Speed: 5 Glide: 6 Turn: -3 Fade: 1

Max Weight: 178g

About Prime:
Prime will have an incredible feel and excellent grip even when the weather will compromise your hold on your favorite disc. These are all secondary benefits to this incredible line of discs. Our guiding intention was to bring a product to market that was affordable for beginners looking to test the waters.


People who bought this product, also bought