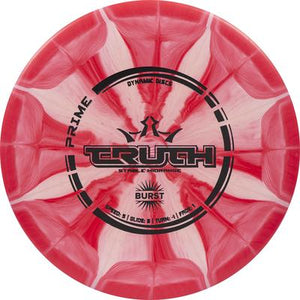 Stamp color will vary.
Shade of disc color may vary. For example, yellow can be a mustard yellow or a bright yellow.
The first color listed will be the main primary color and the next color listed will be the secondary color. Please give some exceptions as the amount of color and burst in each disc will vary. For example, Blue "primary"/ Smoke "secondary".
The best midrange disc in the game. The Roc and the Buzzz showed us how versatile and trusted a midrange can be. We took the best of all worlds and the Truth has been revealed. Hyzer, straight, anhyzer, distance, approach, low ceiling power shots, high floating drop shots, all have been accomplished with the Truth. Beginners and World Champions love this disc and lower their scores with it and you will, too. Signature disc for 2010 World Champion, Eric McCabe.
Speed: 5 Glide: 5 Turn: -1 Fade: 1
Max Weight: 180g
About Prime:
Prime will have an incredible feel and excellent grip even when the weather will compromise your hold on your favorite disc. These are all secondary benefits to this incredible line of discs. Our guiding intention was to bring a product to market that was affordable for beginners looking to test the waters.
Dynamic Discs Team Member Review
"The original Truth has awesome glide with minimal fade. If you have good arm speed, you'll be surprised at the distance (especially on turnovers) you can get from the Truth!"
-
Robert McCall
People who bought this product, also bought