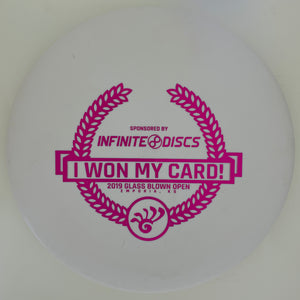 2019 Glass Blown Open 'I Won My Card' sponsored by Infinite Discs pink stamp.
When you need a bit of extra glide to get your putter to the basket, look no further than the Guard. The Guard can handle some power, and it excels as a neutral flyer when used off the tee or for upshots. With a deeper profile and beadless rim, the Guard will help you protect against those dreaded low putts!

Speed: 2 Glide: 5 Turn: 0 Fade: 0.5


About Prime:
Prime will have an incredible feel and excellent grip even when the weather will compromise your hold on your favorite disc. These are all secondary benefits to this incredible line of discs. Our guiding intention was to bring a product to market that was affordable for beginners looking to test the waters.
People who bought this product, also bought