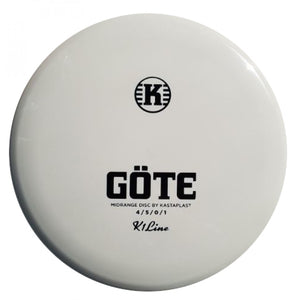 The Kastaplast K1 Gote is a large diameter, stable mid range driver. The Gote has a neutral flight with good glide. This disc golf driver is slower than the Kaxe and easier to handle for touch shots and shorter holes. It is the first disc made in Kastaplast's new factory in Gotene.
GÖTE, pronounced [yettah] in English, is an old Norse first name, meaning a person from Götaland (Southern Sweden).
Speed 4, Glide 5, Turn 0, Fade 1
Gote Specs:
Diameter: 21.9 cm
Maximum weight: 181 gram
Height: 2.1 cm
Rim depth: 1.3 cm
Rim thickness: 1.3 cm
K1 Line is Kastaplast's super durable material that has a nice combination of firmness and gumminess. Disc golf discs in the K1 Line have both solid and translucent colors.
People who bought this product, also bought