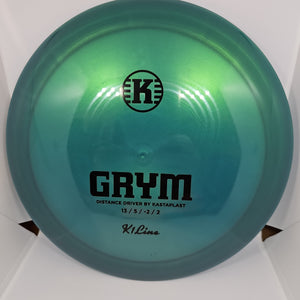 Last Run special release in Emerald color-shift.
The Kastaplast K1 Grym is an understable distance driver, a big D for the common disc golfer. Use it for long smooth s-curves and tailwind bombs. This disc golf driver has a clean shape and a comfortable 2.2 cm rim.
Grym is Swedish for cruel or awesome – try it out for some grym lines! …or as one of their team players put it… "by the way, that Grym gooooeees…".
Speed 13, Glide 5, Turn -2, Fade 2
Grym Specs:
Diameter: 21.1 cm
Maximum weight: 175 g
Height: 1.8 cm
Rim depth: 1.1 cm
Rim thickness: 2.2 cm
K1 Line is Kastaplast's super durable material that has a nice combination of firmness and gumminess. Disc golf discs in the K1 Line have both solid and translucent colors.
People who bought this product, also bought