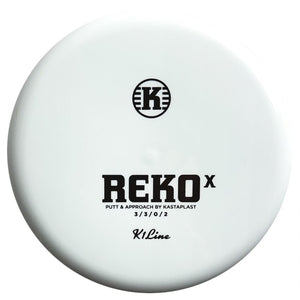 The Kastaplast K1 Reko X is an overstable putt & approach disc. This workhorse shares many characteristics of the classic Reko and will add a little extra stability to your game. The Reko X has a concave wing which allows for a better grip and is great for headwinds. This disc golf putter is suitable for putts, approaches and short drives. This batch comes in 173-176g only.
Reko is Swedish for good, reliable or decent. The world needs more Reko.
Speed 3, Glide 3, Turn 0, Fade 2
Reko X Specs:
Diameter: 21.4 cm
Maximum weight: 177.6 gram
Height: 1.9 cm
Rim depth: 1.4 cm
Rim thickness: 1.1 cm
K1 Line is Kastaplast's super durable material that has a nice combination of firmness and gumminess. Disc golf discs in the K1 Line have both solid and translucent colors.
People who bought this product, also bought