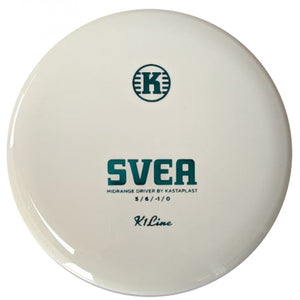 The Kastaplast K1 Svea is a stable mid range driver for laser-straight precision shots, long anhyzer lines and smooth hyzers. This easy to use disc golf driver isn't just for beginners. The Svea will be your secret weapon for massive glide and any line you need. With a lower profile than the Gote, it is easy to grip and release for smaller hands. The key word for Svea is glide!
Svea is an old Swedish name which is derived from the people of Svea Rike, later Sweden.
Speed 5, Glide 6, Turn -1, Fade 0
Svea Specs:
Diameter: 21.9 cm
Maximum weight: 181 gram
Height: 2.1 cm
Rim depth: 1.3 cm
Rim thickness: 1.3 cm
K1 Line is Kastaplast's super durable material that has a nice combination of firmness and gumminess. Disc golf discs in the K1 Line have both solid and translucent colors.
People who bought this product, also bought