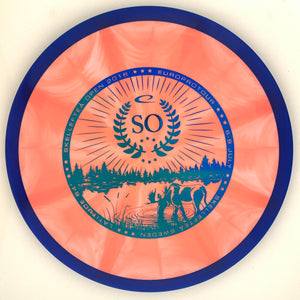 Pink Gold Line Burst as of the center and blue Opto Line as the outside rim w/ a blue EuroProTour 2018 Skelleftea Open stamp.

Rise to the top with the Fuji. Overstable, predictable and made to handle power. Fuji is a trustworthy straight flyer with a consistent hyzer fade at the end, even when the wind blows. Fuji has a slightly more shallow grip compared to traditional midranges. This overmold disc has an Gold Burst flight plate and an Opto-X rim.

Speed: 4 Glide: 4 Turn: 0 Fade: 2
About Opto:
Opto is made out of some of the world's most durable plastics. It comes in a variety of beautiful translucent colors. The Opto Line plastic has been developed to withstand severe punishment and extreme conditions better than other plastics.
About Gold:
Gold Line is Latitude 64's premium blend plastic. The start of the mix has been the same brand plastics used in Opto Line but they added a different polymer to give it better grip without losing the excellent durability of Opto Line.
People who bought this product, also bought