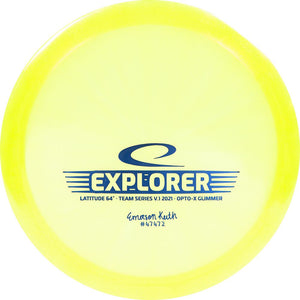 Stamp color will vary.

Shade of disc color may vary. For example, yellow can be a mustard yellow or a bright yellow.

Why was the Explorer voted the 2018 Disc of the Year? Straight flight path and controlled glide, that's what the Explorer brings. Designed to be the workhorse for all kinds of accurate fairway drives. This stable and versatile fairway driver is smooth out of the hand and has a clean stable flight.

Speed: 7 Glide: 5 Turn: 0 Fade: 2
Opto-X:
Opto-X is a premium blend of plastics that provides a stiffer feel, increased durability, and more overstable flights.
Glimmer effect: Chameleon color shift combined with a metallic glimmer effect.

Read The Story of the Explorer.


People who bought this product, also bought