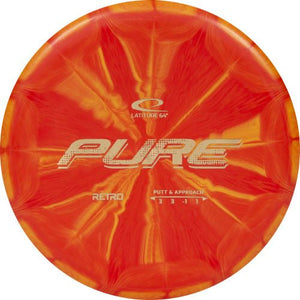 Stamp color will vary. Stamp design may vary.
The first color listed will be the main primary color and the next color listed will be the secondary color. Please give some exceptions as the amount of color and burst in each disc will vary. For example, Blue "primary"/ Smoke "secondary".
The Pure is a modern classic in the putt and approach department. The disc was co-designed with Jesper Lundmark and features a comfortable grip and a medium deep rim, with minimum fade for the ultimate putting experience. Left, straight or right; it will hold any line on your approach shots. Elevate your game around the basket with the Pure.
Speed: 3 Glide: 3 Turn: -1 Fade: 1
About Retro:
The mid-80s was a great time. Disc Golf had just come all the way up to Latitude 64 and we played all through the night in the midnight sun. Translucent discs were far from being invented and all discs were understable with today's standards. We remember those days with nostalgic feelings and wanted a plastic that would remind us of how it used to be. For a long time, we have had requests that we should make discs that could be broken in more easily. Test after test after test led us to this new plastic blend that we have named Retro.
Read 
The Story of the Pure
.
People who bought this product, also bought