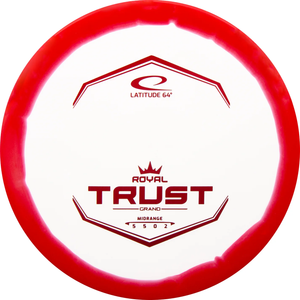 Trust - you cannot have a healthy relationship with your disc without it. This midrange workhorse is a stable, straight-shooter when thrown with some power. For slower shots it has that dependable gliding fade. The beadless smooth rim makes the Trust a weapon for both backhand and forehand shots.

Speed: 5 Glide: 5 Turn: 0 Fade: 2


Albert Tamm about the Trust:
I chose Trust as my Team Series disc for 2023, because I love throwing midranges and for me it is probably the most enjoyable part too. I like the fact that different colors have a little variations in flight, which let me use the same mold to cover all the flight paths.

About Royal Grand: Grand is the durable premium plastic in our Royal Line. Grand has great grip that will not fail you, no matter the outside circumstances. It features a soft feel and a rigid rim with perfect flex.
People who bought this product, also bought