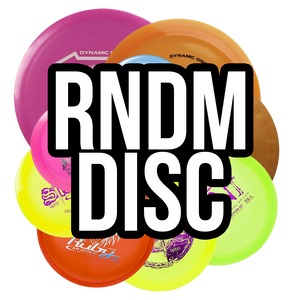 Not sure what to choose? Want to surprise yourself or maybe your neighbor? Tired of these stupid questions?
Stop everything right now! RNDM Disc is here to save you! This is solution to all of you problems. Well, at least for selecting a disc type of problem. Buy RNDM Disc and we will send you.. random disc!
Let the gods from the skies make the selection for you. You might get a stock stamped, special edition, limited edition, special limited or anything from our inventory or even something that is not available at the store! You can make wishes on the order if you like, or just let us handle everything.
You have three options to choose from: Base, Premium, and Risky. The Base choice will get you a base plastic disc with a stock stamp. The Premium choice will get you a premium plastic disc with a stock stamp. And finally, the Ricky choice will get you one of any custom stamp, MyDye, DecoDye, Special Edition, or Limited Edition we have in stock!
Good Luck!
People who bought this product, also bought