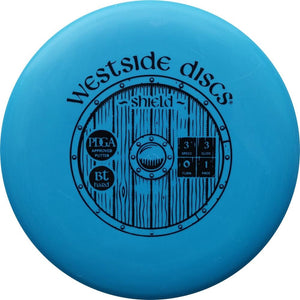 Stamp color will vary.

Shade of disc color may vary. For example, yellow can be a mustard yellow or a bright yellow.
Westside's newest putter on the market, the Shield, is the next step up from the Swan. Designed with a tacky grip in the BT plastics, the Shield is a little thicker and has a small bead on the rim. It holds a stable line when throwing as an approach and a straight line into the chains while putting.

Speed: 3 Glide: 3 Turn: 0 Fade: 1

About BT Hard:
The final of Westside's BT line, the BT Hard, was designed to give the user that firmer feel while maintaining a tacky grip. Great for warm climates, the BT Hard holds its shape and is extremely durable. Also available in putters and midranges, the BT Hard will give you that consistent fast release you get from stiffer plastics.Try the BT Hard and increase your consistency immediately.
People who bought this product, also bought