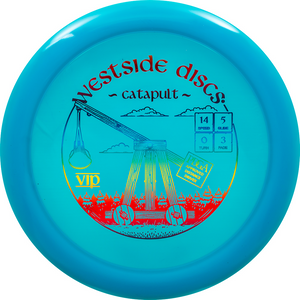 Like its namesake, this is made to cover long distances. This is a super-high speed disc that even the big arms will be able to use. Fast with enough stability to really handle a full power throw. When you need to go a long way with predictability, launch this Catapult over any obstacle in your way.
Speed: 14 Glide: 4 Turn: -0.5 Fade: 3
About VIP Plastic:
Super-durable hi-tech plastic with excellent performance. VIP plastic is transparent so you can see through it. Discs made in VIP-plastic maintain their flight characteristics and reliability for a long time. This plastic is suitable to both recreational players and pro players. Latitude Opto-plastic is more than 98% similar to Westside VIP-plastic.
Thanks!
Wanted to try out a catapult as friends rave over it. Unfortunately, my arm speed isn't quite up to specs for this disc, but tri fly had it when noone else did and fast shipping thanks!
People who bought this product, also bought