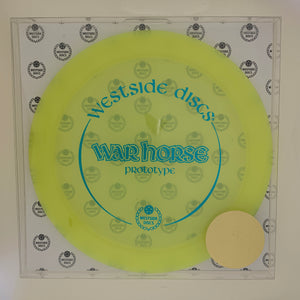 Westside Discs VIP prototype War Horse in Westside Discs collectors box.
Disc golfers can charge into battle with the new overstable distance driver from Westside Discs, the War Horse. Combining higher speed with dependable stability, the War Horse can tackle strong winds with pinpoint precision.

Speed: 13 Glide: 4 Turn: 0 Fade: 4

About VIP Plastic:
Super-durable hi-tech plastic with excellent performance. VIP plastic is transparent so you can see through it. Discs made in VIP-plastic maintain their flight characteristics and reliability for a long time. This plastic is suitable to both recreational players and pro players. Latitude Opto-plastic is more than 98% similar to Westside VIP-plastic.
People who bought this product, also bought