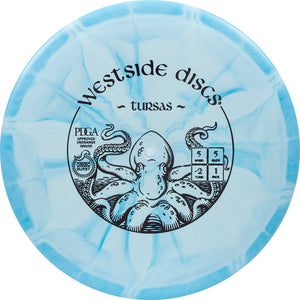 The first color listed will be the main primary color and the next color listed will be the secondary color. Please give some exceptions as the amount of color and burst in each disc will vary. For example, Blue "primary"/ Smoke "secondary".

Stamp color will vary.

Shade of disc color may vary. For example, yellow can be a mustard yellow or a bright yellow.
The Tursas is Westside's most controllable midrange disc. Designed with the everyday player in mind, the Tursas will make playing disc golf more fun. It should allow you to make a midrange anhyzer while you are learning to play. Great for ladies and kids as it has a shallower grip than most mid ranges available on the market. For professional players, it makes a great anhyzer midrange. For lower speed arms, it will glide straight for as long as it is in the air.

Speed: 5 Glide: 5 Turn: -2 Fade: 1
About Origio Plastic:
Grip. That was the intention. Make a plastic that feels great and is easy to throw. Origio is that solution. In the same way that Prime for Dynamic Discs and Retro for Latitude 64 brought this incredible plastic to their line of discs, Origio now makes your favorite Westside discs feel that much better.
5/5
Faster than expected shipping, update emails when shipped, out for delivery, and delivered. Great disc, when I manage to release it right!
People who bought this product, also bought